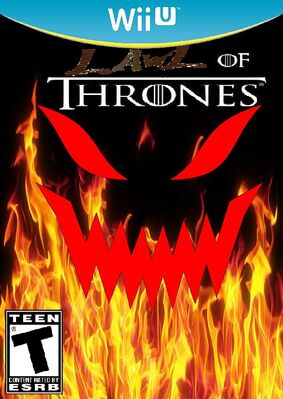 Lawl of Thrones is a crossover fighting game spinoff of Chincherrinas's Smash Bros. Lawl series. Made by TheBrideKing. The title was taken after the HBO television series "Game of Thrones" and will not to be confused. Also, The Lawl Before Time are the first game spin-off created by TheBrideKing.
It has been inspired by Smash Bros. Lawl Impact and Super Smash Lawl Lambda.
Theme Song
The song is the full choral version of Lucius Dei by Globus. This video is my way of showing that wasn't always the case, and alternatives to anime are still beautiful, still breathtaking, still relevant.
Plot
TBA
The Game will have a total of 72 characters, while ??? characters have been made while 72 characters have been confirmed making the game have a total of 54 characters confirmed at the moment. There will be tag team characters as well as stand-alone characters. Unlike previous game, there won't be any characters chosen by fans (Empty Slots).
Game Mode
Play Alone
Play with Friends
Colossus Arena
Time Mode
Coin Battle
Tage Team Battle

CPU vs CPU (Battle Theater)
Character Creation
Regular Customize

Clothes and Accessories
Equipment
Colors

OC Customize

Clothes and Accessories
Equipment
Colors
Voices
Wi-fi Online
Tournament

1 on 1
Brawl Battle
Team Brawl

Download Contect
Shopping Wall
Museum of Lawl of Thrones
Stage Builder
Character Profile
Achievments
Replays
Photo Album
Settings
Volumes (Sounds, Music, and Voices)
Announcer Changer
Screen
Controls
Memory Cards
There is a total of playable several stages in Lawl of Thrones. This does not count any stages that the player has made in Stage Builder and the stages that the bosses are fought on in Classic Mode.
 Trivia
TheBrideKing decided to replace Smash Bros Lawl: Dissidia and the Lawl of the Rings until he decides to make new Smash Bros Lawl Spinoff.
The Lawl Spin-Off's name comes from Game of Thrones.